Public Relations

Quantum Lightspeed, Check Point$B!G(Bs fastest firewall ever awarded the Grand Prix at the Interop Tokyo 2022 trade show with its highly improved throughput and latency well rated
June 16, 2022
Asgent, Inc.
(JASDAQ: 4288)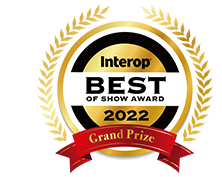 Asgent Inc. (President & CEO: Takahiro Sugimoto, Tokyo)announces that Check Point Quantum Lightspeed, one of Check Point data center firewalls the company carries won the Grand Prix in the Best of Show Award$B!G(Bs security category at the Interop Tokyo 2022 trade show. This is the second consecutive year that Asgent won the Grand Prix in the same category, following the last year's award for Karamba's Total IoT Security.
Having been held since 1994, Interop Tokyo is one of the largest Internet technology events in Japan. Its Best of Show Awards pick up $B!H(Bthe Products of the Year$B!I(B, of which winners are chosen by a panel of judges comprised of key members from leading media companies and academic fields. The finalist judging panel selects the winners from nearly 300 entries of new products of the show$B!G(Bs exhibitors.
One key to the product$B!G(Bs winning this award was its pioneering use of NVIDIA's SmartNICs, which have significantly improved throughput and latency compared to previous products. Another key was Check Point's latest technology that contributed to a PoC in the ShowNet project of the show. The judges commented at the award ceremony, "We are pleased to present the award to this product. With its guaranteed scalability, we expect to see further enhancements of the product in the future such as improvement of UTM threat prevention capabilities.$B!I(B
About Check Point Quantum Lightspeed
Using NVIDIA-developed ASIC technology, this firewall delivers the fastest firewall performance in Check Point's history, providing a breakthrough as ultra-fast security solution for high-end enterprises and data centers that require high-capacity communications. The firewall's throughput is scalable up to 800Gbps per gateway and 3Tbps per system, a five-fold improvement over current products. It also boasts 3-microsecond ultra-low latency, which is 10 times faster than current products.
Asgent's Contribution to Interop
In addition to exhibiting its products, Asgent participates in a project called "ShowNet" at Interop Tokyo each year, being part of a network within the trade show venue. This is a huge project in which various interconnection demonstrations and challenges are conducted while the entire venue in Makuhari Messe is connected to the Internet as an operational network.
In 2022, we offered the following products for cyber threat detection in the project.
$B!&(BCheck Point Quantum Security Gateway
$B!&(BCheck Point Quantum Maestro
$B!&(BCheck Point Smart-1
$B!&(BCheck Point SandBlast TE

*Company and product names are the trademarks or registered trademark of the respective companies.